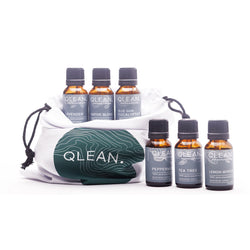 Australian Natives Essential Oil Set
SKU: Ess-Oil-Native6
6 bottle set consisting of 100% Pure Essential Oils – packaged in a re-usable, environmentally friendly, canvas gift bag.
Invoke the Australian landscape in the comfort of your own home with our collection of Australian sourced native essential oils. Pure native plant oils that will not only soothe the senses but traditionally known for numerous therapeutic benefits.
The Australian Natives Essential Oil Collection includes:
1 x Lemon Myrtle Essential Oil
1 x Lavender Essential Oil
1 x Peppermint Essential Oil
1 x Eucalyptus Essential Oil
1 x Tea Tree Essential Oil 
1 x Native Blend Essential Oil 
Always feel close to nature with this aromatic and calming mix of Australian Native essential oils.
Product Descriptions
Lemon Myrtle (15ml)
A soothing lemon lime fragrance that is uplifting and invigorating and a wonderful balancing oil for anxiety.
Lavender (15ml)
A serenity boosting scent that is perfect to unwind to in the evenings and will help promote sleep, a sense of calm and a peaceful mind.
Blue Gum Eucalyptus (15ml)
A soft, fresh aroma invoking the majestic gum trees of the Australian bush. Helpful with congestion, aches and pains and improved mental focus.
Peppermint (15ml)
Invigorating for the mind and body and a great morning oil to get you energised for the day. Therapeutic properties that promote relief for muscle and joint pain when used in massage.
Tea Tree (15ml)
A highly effective native oil renowned for its purifying properties.
Native Blend (15ml)
Our winning combination of 5 native oils provides the ultimate day spa experience in your own home. A balanced, uplifting and soothing blend for body, mind and spirit.
Australia
Just $5 Australia wide. Free shipping on orders over $100 and on orders comprising only travel/petite sized products.
International
Rates estimated on cart page using Australia Post weight calculator.
For more info about shipping please Click here
Australian Natives Essential Oil Set